CJPS History, Mission and Vision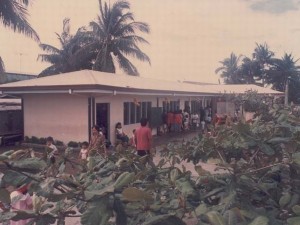 Child Jesus of Prague School, one of the premiere learning institutions in Rizal started out as a modest one-classroom school catering to the youth of Binangonan. Founded by Mrs. Antonia A. Aprecio and her husband Mr. Bonifacio C. Aprecio in 1982, it was then known as the Aprecio-Arcilla Children's House. It offered pre-school, Montessori-style education and was located in the garage of Mrs and Mrs. Aprecio's home near the Sta. Ursula Parish Church. The pupils were taught by Mrs. Aprecio and her late sister Mrs. Adoracion A. Cruz.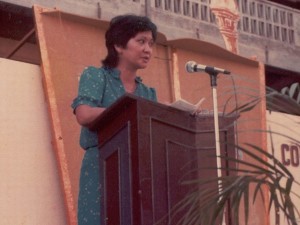 The first batch of pre-schoolers graduated in March of 1983. Additional enrollees made the construction of a bigger structure in a new location necessary. The new campus in Barangay Calumpang came with a new name: Child Jesus of Prague Learning Center and additional Elementary Grades. Soon the population of the school grew to 300 students from the original 31. From 1984 to the early 90's, the growth rate was close to 70% every year reaching 714 in 1995.
Due to this rapid growth and the offering of additional levels, Mr. and Mrs. Aprecio thought it wise that the name of the school be changed once again to better describe its size. Form the old name denoting "small in size and capability", the "Learning Centre" was changed to "School." Child Jesus of Prague School became the institution's name.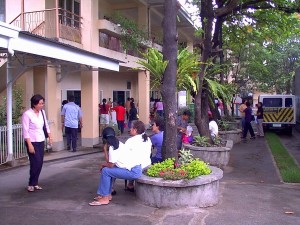 After enjoying several years of increase in student population, CJPS gradually lost more than 200 students, averaging a population of 530 from 1997 to 2000. This was due to the rise of new learning institutions in the area that offered cheaper tuition fee rates and the continuous deterioration of the Philippine economy.
In March of 2000, the CJPS High School Department was established in Barangay Batingan, Binangonan. This was a response to the desire of the community for CJPS to provide secondary education to its Elementary graduates who were going elsewhere. With only 38 students for school year 2000-2001, the High School Department quickly gained recognition for the premium quality education it rendered. By its second year of operation, the CJPS High School Department more than doubled its student population. As of school year 2013-2014, the student population of the High School Department was more than five hundred 500 students.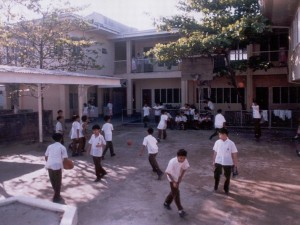 Child Jesus of Prague never forgot its roots as a provider of excellent pre-school instruction. Graduates of the Preparatory class are already able-readers by the time they move to the First Grade. To give emphasis on the important role of the Pre-School Department as the child's first forays into quality learning, the CJPS Pre-School Campus was opened in October of 2009. Designed as a more conducive learning environment for the little kids, it boasts of 5 new classrooms and play areas separate from the older and bigger Elementary pupils. The CJPS Pre-School Campus, located in a spacious, adjacent lot is now home to almost 300 pupils. It shares an expansive and convenient parking area with the CJPS Elementary Campus.
After more than 30 years, the total population of the three CJPS Departments is in excess of 1,400 students.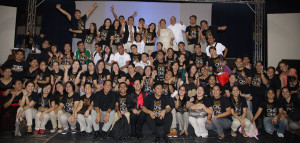 Even at its inception in 1982, CJPS is committed to render educational excellence. This was reflected in its first vision statement: "To provide quality, non-sectarian education to the youth of Binangonan." This high standard was also borne out by the performance of its students in the various academic and non-academic contests held throughout the years. CJPS has consistently garnered high passing rates in the National Achievement Test (NAT) and the National Career Assessment Examination (NCAE) for Rizal Province. It dominated the academic contests of the Binangonan Private Schools Association (BIPRISA) in the 90's and even captured the Over-All-Champion honors, three times in the BIPRISA Sports Competition.
Always on the lookout for new challenges, CJPS has joined the Metropolitan Schools Sports Association in 2011. Competing against the likes of UST, Don Bosco, British School Manila, NU, San Sebastian, Lourdes School of Mandaluyong and Colegio San Agustin Makati, our student athletes are being pushed onto new heights of excellence.
All these achievements have caused the school leadership to embark on a positive restatement of the school's mission and vision in 2010. Looking beyond the old town and province borders, it reaffirms its daily commitment:
Child Jesus of Prague School passionately works toward holistic development of the Filipino youth, who embody strong faith in God and moral values, intelligence that surpasses national standards, physical discipline, love for the country and its people.
and set its sights on a loftier goal:
The CJPS Vision Statement
Child Jesus of Prague School will produce holistically developed and top performing students, who will be able to demonstrate outstanding communication and problem solving skills and critical and creative thinking abilities; competently prepared for higher education, employment and entrepreneurship, and able to live in harmony with his family, fellowmen, environment, and his Creator, all for God's glory.
Indeed, with the emergence of these new mantras, CJPS has resolved to rebuild itself into the 21st century learning institution, this country needs. Now on its 32nd year, with a renewed commitment to a closer and more harmonious working relationship with parents, continuous investment in the professional and personal growth of its faculty and meticulous planning and upgrading of facilities and curriculum, Child Jesus of Prague School is on-track to become a top learning institution in the Philippines.