Elementary School
"Your child's future is our inspiration."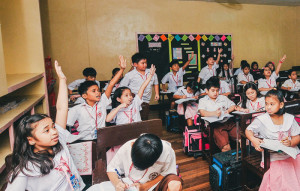 I. Philosophy
Education at Child Jesus of Prague School is founded on a belief that every child has to be developed holistically. As such, it strives to mold students into persons who are physically, intellectually, socially, emotionally and spiritually equipped in facing this rapidly changing world. To achieve this, everyone in the institution endeavors to be hardworking, dedicated, professional, honest, God-fearing and loving and to think like a winner.
The primary mission of the Grade School is to build a solid foundation for learning and character formation. It aims for mastery of academic content with the development of academic and social skills essential for success.
II. Curriculum
Owing to dedication, hard work and effective planning, a flexible academic and extracurricular program is offered that gives each student opportunities to be engaged in the learning process.
In the school's transition to K-12 Curriculum, we carefully planned the different stages following the spiral progression. It ensures mastery of knowledge and skills after each level. Hence, we offer our students a versatile curriculum designed to stimulate creative inquiry, self-sufficient thinking and intellectual attainment.
CJPS takes pride on its academic subjects. Its curriculum has a high academic standard which makes its graduates more prepared for the secondary level. The school is best known in developing skills from the contents of each learning area. Christian Living Education deals with man's relationship with God and his neighbors. English and Filipino develop the students' skills in listening, reading, writing, speaking and viewing. Mathematics deals in solving life problems with speed and accuracy. Science widens the critical thinking skills for life-long learning. Araling Panlipunan broadens nationalism and love of country. Edukasyong Pantahanan at Pangkabuhayan practices life skills for entrepreneurship and living. Music, Art, Physical Education and Health brings out creativity and sportsmanship in everyone. Values Education is committed to character formation and wholesome personality development. Computer promotes computer literacy.
Grade school students of CJPS describe school life as enjoyable and meaningful. This is mainly because the school runs comprehensive and multiple co-curricular activities that embrace disciplines of Music, Art, Sports, Performing Arts, Entrepreneurship, Politics and Academic Clubs. Joining a club opens the door to
building new friendships, magnifying academic life and exploring career opportunities. Aside from this, the school has an active Scouting program designed to help students from grade four to grade six to appreciate the principles of outdoor values, to focus on self-development and to enhance self-esteem.
Classroom teachings are supplemented with activities that will help the students become skilled and put into practice the learning that they get every day. In our school, the students experience to cook and prepare their own menu, compose a song and sing their composition confidently, write a poem, make a book report, speak in front of the crowd with conviction, design their classrooms to be like a museum, solve life problems through games, showcase their talents in theatrical plays and most of all help those who are in need. These are some of the various activities that the school provides for the students to have fun while learning.
A 21st century learner is expected to reason effectively, make judgments and decisions, work creatively with others, communicate clearly, evaluate information precisely, apply technology efficiently, and lead others effectively. The school prioritizes these skills so it developed rubrics to assess performances as it should be. This tool evaluates the students' performance based on standards. Therefore, they get the right feedback for them to do better.
CJPS considers the importance of extracurricular activities in the holistic development of every child. In essence, CJPS Portals was made. It is a gateway to talent and skills development. This program includes Music and Movement, Voice, Teatro, Musical Instruments and Taekwondo. Excellence, competitiveness and quality achievements are few of the ethics that will be developed in each.
III. Approach
At CJPS, teaching methodologies are inclined in the theory of constructivism. Each teacher believes that learners construct their own learning through experiences. Therefore, the facilitators of learning prepare classroom activities that are highly categorized as student-centered. As early as grades one, two and three, students are encouraged to apply brainstorming, questioning and simulations. As they grow older, they are practiced to work with their group, discuss and do a debate. Thus, CJPS Grade School Department is a place of discovery, exploration and meaning-making.
IV. Achievements
Triumph at CJPS is viewed as success for one is success for all. It confirms its mission which is to build a strong foundation of competencies and skills by consistently performing well in National Achievement Test. Moreover, for two consecutive years, our students represented the Division of Rizal in Regional Schools Press Conference. They are not just competent in academics but are also competitive in sports. At present, we are joining the Metropolitan School Sports Association (MSSA) and Inter Scholastic Sports Association (ISSA) competing with the finest schools in Manila and nearby provinces.