Faculty
A Deeper Sense of Dedication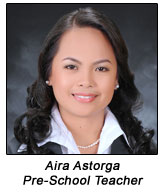 "I am a teacher", are words often whispered; a phrase that is mostly spoken in a very low tone as an answer to the question, "What's your job?"
At first, I chose this profession with the thought that it was the easiest course to finish. I took it knowing that it was one of the easiest jobs offered. Teaching was a mere routine for me. It lacked variation, liveliness and enthusiasm. I had this mentality in my first three years of teaching, until I finally got here, a place I once saw as just another source of income, a place now I call home. I started my first day of teaching here with a sense of 'culture shock'. What I thought I already knew was again new to me, and it was not just a big step, but a great leap from what I have left behind. The hardest part was the very busy schedule. It seemed that a whole school year was not enough to accomplish all the activities lined up: sports fests here, quiz bees there, team building activities some place else. Then there were these so-called 'seminars' that would occupy even the rest days of the week. That really made me raise an eyebrow. It was hard of course. Without exaggeration. But all of these things helped me become what I am now. This institution taught me not to teach for a living but to teach for a life. A life that is so fulfilling and so hard to achieve elsewhere. I learned that dedication was the key to become a productive teacher. To be someone who can touch lives and share her own expertise and most importantly, someone who can guide her students to walk a path that leads to God. After all, I guess, this is why the school was named after our Lord Jesus Christ.
In the past, I was puzzled. How could CJPS produce graduates who are very competitive and compelling? I was surprised! How could CJPS impart to students such a high level of discipline? I was awed! How could CJPS produce a stage-full of achievers! This is a mission that every teacher wants to accomplish; a vision that every mentor wants to see. My goal for the last four years of staying at CJPS is to make difference everyday. I have watched each and every move that this institution made to sustain a room filled with hungry minds, very eager to learn. I looked closely at how they reached out and march to the beat of these young hearts, hearts needing to be cherished and loved. It is crystal-clear to me now that the ways of CJPS are most effective. I plan to enroll my child here. I am sure a bright future awaits her.
Child Jesus of Prague School is now my home; here I have my parents and guardians, my superiors, who continuously mold and shape me to fill-in hollow space; transforming me to become a key which open doors to opportunities. Here I have my brothers and sisters, my colleagues, whom I share laughter and tears with; who walks with me through thick and thin. I have my children, my students, who inspire me to improve myself and make me realize my worth; their success is my triumph. And lastly, I have my friends. They lift me up when I am down and pull me to the ground when my feet leave the earth. We tell each other about our feelings at dinner; the "Gawarasal", which we hold every week, giving us the confidence to adjust every action we take. I am very thankful to God for giving me a family, a home and a place where I feel I truly belong.
Now, when someone asks me, 'What's your job?" I'd say "I am a teacher!" loud and proud, just as our uniform says, "I'm proud to be a CJPS teacher."
I am a Teacher because God has Called Me to Teach and Touch a Life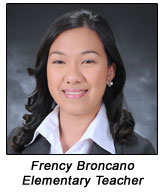 "Why did you choose to become a teacher ma'am?" I remember my grade six students once asked me. "I am a teacher because God has called me to teach and touch a life." I answered gladly.
Child Jesus of Prague School has given me a chance to turn this faith into a reality. I never had regrets when I chose this school to become my second home. It is indeed true that being a CJPS teacher is a challenging yet a fulfilling job. It offers tough tasks and big responsibilities, tasks that helped me gain more and as a result, lets me give more to the students who look up to me as their guide in their journey to life, tough tasks with one great reward that money or any material things cannot give – SATISFACTION!
CJPS teachers render themselves to others for they believe that service is the best indicator of how godly a person is. Like other teachers all over the world, we are also committed, dedicated and competent. The only difference is the motivation that we have in the inner part of ourselves. We look up to Jesus Christ as the best model of being a teacher. He himself served up to the last minute of His life. This motivation makes a difference. It brings uniqueness on how we teach, how we live and how we inspire.
As I continue to get to know the system, there was never a time I felt alone. I believe that best teachers are both born and made. Working becomes easier with the presence of the best and the experienced teachers and superiors. In the quiet moments of my life, I feel blessed when I see how much I have grown professionally as well as my colleagues. Who will not grow in an institution like this? It invests so much on us, teachers. Summer trainings and indoor and outdoor seminars and workshops with the finest speakers are some of the activities that will really help one develop his personality and outlook in life. I have also grown up with the help of the administrators who do not just have brains but hearts for their people and most of all treat their work as a service to God and to mankind.
In more than five years in the world of academe, I may say that CJPS has performed well, still performing better and will continue to become the best school that will ensure success for its students. Its programs fit with that of the needs of the fast changing world. These things may be proven by its alumni who graduated with flying colors in national and international universities. Its being on top in government examinations may also attest that the school's system is always after the students' success. These achievements will never be at hand if appropriate behavior and discipline are not developed on students. Thus, CJPS students are developed holistically.
I asked my students in return, "What would you like to be in the future?" Most of them would like to be a doctor, others want to be a lawyer, few chose to be an engineer and I cannot explain what is in my heart when some raise their hand and say that they would like to be a teacher like me, like us, like their teachers. Though their minds may still change, that time was one of the most unforgettable times in my career because I know for sure that my life and my profession inspired them. Seeing my dear students pursue a dream signifies inspiration. Teaching and touching a life are inseparable. They should come together in order for a teacher to inspire learners. Many will agree with me when I say that the best reward that a teacher could get is the success that his students will acquire. The products are the students, human being and life. The pillars of this institution have already seen their products and they may already claim that they did a wonderful job. Personally, I am excited to see my products in the coming years. The ones whom I have inspired to live a better life. My only prayer is for them to become better than I am, better than their teachers.
Education is 25% of what you know and 75% of who you are. The values that the students will gain are more important than the knowledge that they will get. Rest assured that CJPS will always be your partner in educating and nurturing young minds for them to become better citizens of the country.
EXCELLENCE: A Network of Shared Experiences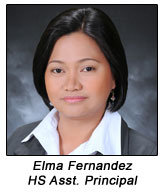 "Experience is never limited, and it is never complete.  It is an immense sensibility, a kind of huge spider web of the finest silken threads, suspended in the chamber of consciousness and catching every air-borne particle in its tissues."  And this probably is one of the key reasons why I am sticking with this institution.  Child Jesus of Prague School endows me with a thousand and one opportunities to be who I want to be through remarkably rewarding experiences.
Working for over six years in the Missions and teaching for five years in CJPS do not have a great deal of difference. The overriding principles for both states are inexplicably intertwined. The common denominator is God's hand at work. When I left the missionary life, I thought my life had been full and that I had already been contented of the experiences I considered as intensely challenging, only to find out that my real mission and vocation was just about to begin.
Passion, enthusiasm, sense of responsibility and commitment, self-esteem and godliness are but few of the virtues which one can be habituated with through every facet of the CJPS formation, both for its students and employees. Indeed, first impression lasts.  My thought then, that this school would serve as a path for me to fulfil God's plan for my life is invariably being concretized each day, making me a better individual and CJPS worker.
The people I work for are simply amazing. They live by example. They stoop down to the level of every employee because they genuinely care and understand.  How could I forget that funny incident when they visited my father's wake? And their long conversation with my mother despite the inconvenience of the place? They would readily go out of their way to make one feel she is not merely an employee but also a valued part of their family. I have likewise never imagined a company president creating a trending online post, expressing admiration for no less than Kuya Tony. Furthermore, their generosity teaches and moves us to share and make others feel that God is alive. They are not the type of administrators and school owners who complacently tell their people what to do.  They virtuously and actually show us how to do it. They are like roots concealed in the ground, humbly giving nourishment to the plant — us. They undeniably cause me and the rest of us here to move upward, to boldly give our best in every endeavour and to become leaders in our own right.
Thus, I am not surprised if the people around me, those I work with, emulate the same attitude.  In effect, our new teachers, once hired by the school, get a positive culture shock. The load and the commitment our work entails may be seemingly demanding and laboriously taxing, yet the work environment, though there may be flaws, is close to being impeccable.  Our weekly Gawarasal and meetings, which I am sure, not all schools have or do, are a contributory factor.  These have been vital for our personal, professional and spiritual growth.
As the roots provide sustenance to the plant for it to yield a good harvest, so CJPS leaders grant their teachers every means to produce outstanding students. There is no secret formula why a CJPS teacher works exceptionally well for her students, only passion and right attitude.  From the trainings, workshops and seminars we undergo every summer, to the thorough threshing out of plans and systematic execution of each lesson inside the classroom, we never grow tired to keep on improving. True, the word "mediocrity" does not exist in the School's vocabulary.  The effective strategies and methodologies, that are time after time being improved, combined with our love for what we do, constantly give rise to exceptional students who, without fail, top Government Examinations which measure their level of competency and achievement, students who can speak confidently before a huge crowd, students who are able to assert their thoughts and stand firmly for what they believe in, students who get admitted, excel and graduate with flying colors from prestigious universities here and abroad, and students who can make a difference.  Proudly, I claim their successes as my own, our own.
This is what my mission is about – – the CJPS Mission. As I continue to hold my position and give my share to this noble venture, I take pride in the real thing – – our plans, our Vision.  In the meantime, we are taking one step at a time.  The sure thing is, we know where we are heading to and that we will never stop until we get there  We have a clearly established vision, whose fibers and silken threads – – our experiences, are being knitted together, to create a solid network of crafts of excellence beyond compare.